One week ago, I went to attend my friend's elder brother's marriage function. Since his village is located 100 km away from my place, he insisted me to arrive there a day before the function. Me and one of my friends went there on Sunday night 11:00 PM.
Usually, some families prefer to conduct the marriage in an auditorium and some families prefer to conduct at their home. My friend's parents told me that it's their tradition to conduct the elder son's marriage at home.
Due to the marriage function, their relatives were already filled their home and we didn't want to stay amongst them. We met after 6 months, we had a lot of things to share and needed some privacy, so my friend decided to take the space of rooftop of his relative's home which located just in front of his home. 
We were talking till 12:30 PM and my friends fell asleep. But I couldn't. It had been a very long time since I laid down in an open place and gazing the stars. It was really a heartwarming situation.
I thought we could wake up at any time we want because the marriage ceremony would start at 9:00 AM the next day. But I forgot about the loud-speakers tradition, they turned on the loudspeakers at 5:30 AM and played some old movie songs. We woke up unenthusiastically and got ready.
A few hours later, few of the other friends also arrived and joined with us. It was a fun filled hangout.
When the marriage ceremony started, Most of the elderly people gathered in front of the marriage stage and sat in a circular position. the marriage has to be conducted in the presence of the elderly people. A few moments later, both bride and groom's fathers sat at the center of the circle. They greeted each other by wearing a flower garland around each other's neck. And they exchanged betel leaves along with areca nuts. It's a part of the tradition.
Then the bride and groom were invited to the stage. There were some rituals conducted. When the time had come, the groom tied the "mangal sutra" around the bride's neck. It's the evidence of marriage like western people wear a ring.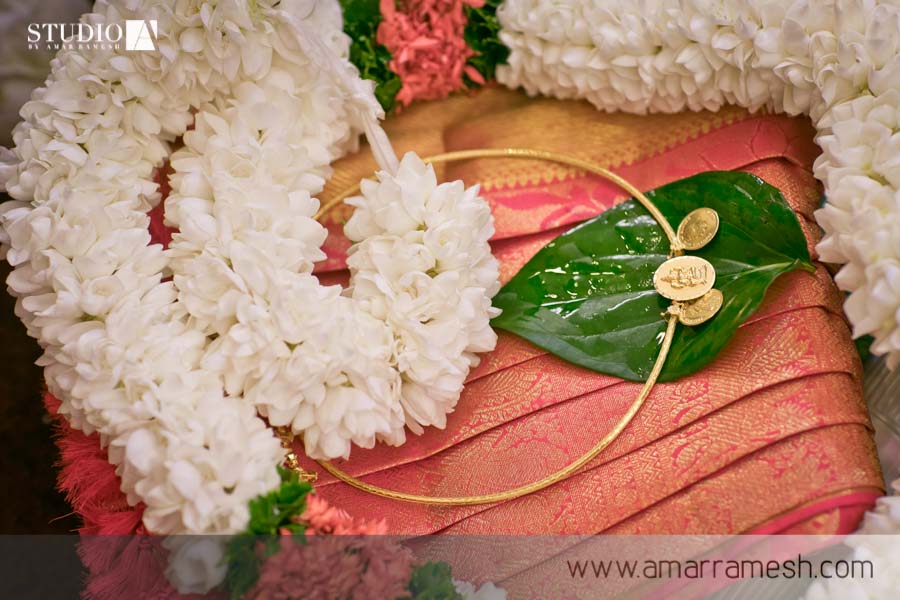 The rest of the people showered "Atchadhai – A mixture of raw rice and turmeric powder" on the couple. It indicates their blessings. (I wasn't able to take a snap of that moment. So I share a relevant image below)
After that, there was an auditorium where both families provide food to the people who attended the ceremony. We went there and ate. With a belly full of meal, we returned to our home. 🙂